Filled with the magic of the
Waaagh!
, the
Wurrgog Prophets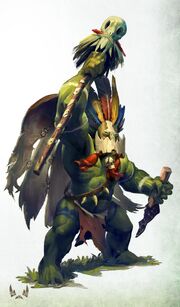 are powerful wizards and the unchallenged leaders of the
Bonesplitter
warclans. Behind their baleful masks, they radiate the potent aura of
Gorkamorka
, filling their opponents with dread and driving their mobs into even greater heights of frenzy.
[2]
Allegedly a direct conduit to Gorkamorka, whose words spill forth with wild abandon, Wurrgog Prophets are regarded with awe and reverence by the orruk Bonesplitterz. Quite, quite mad, they see signs of the Great Green God everywhere, and each of these signs is screaming 'Waaagh!' directly into their faces. Their madness is equalled by their drive, which when combined with their powerful if sometimes indiscriminate magical ability makes them the respected leaders of their clan. Sometimes their spells will rain massive green fists upon the foe, sometimes they will crack the ground itself; more than one battle has been swung by the wild-eyed intervention of a Wurrgog Prophet.[1]
Wargear and abilities
Edit
A Wurrgog Prophet carries a Ju-ju Staff and a flint knife, their face hidden behind a Beast Mask. They are always accompanied by a faithful Squiggly Beast, which bites at their enemies with its fanged maw.[2]
As wizards, they know how to cast arcane bolts, mystic shields and the so-called Fists of Gork.[2]
Miniature
Edit
Ad blocker interference detected!
Wikia is a free-to-use site that makes money from advertising. We have a modified experience for viewers using ad blockers

Wikia is not accessible if you've made further modifications. Remove the custom ad blocker rule(s) and the page will load as expected.